Lifecare foundation, Technology driven healthcare NGO set up make shift hospital at Cholang, Jalandhar offering primary healthcare services. 
Lifecare Foundation has took this initiative & setup this make shit hospital for the needy one with the objective to provide the basic primary healthcare facilities Punjab as Doctors' fees, costly branded medicines and costly tests at the diagnostic laboratory, coupled with the loss of income; all leading to scaled up out of pocket expenses incur by underprivileged group  all these factors leads people to delay their regular check-ups or periodic lab assessments or skip their medication. This was a dangerous situation, especially for people suffering from diseases which usually require timely monitoring of vitals and regular treatment to avoid serious health complications. 
Hospital currently has blood Diagnostic facility, Dental OPD, Beds to handle basic emergencies, First Aid facility, Physiotherapy and pharmacy unit.
This primary healthcare facility is established to cater to these basic health needs at very affordable cost. 
The same facility was earlier established at Sanghu border to provide healthcare facility to the farmers during farmer gathering due farmers bills issue at Sanghu border.   Hospital has provided free of cost facility to the farmers during that time & have handled many life saving emergencies. 
Idea to set up this facility was arise when it was observed many farmers were falling sick due to huge gathering at the site.  During that phase more than 20k plus patients undergone diagnostic tests, 6K plus patients treated in OPD & many more treated in emergency. 
Lifecare foundation has vision to continue these services & therefore the same facility was shifted to Chollang so that society can get benefit of the same.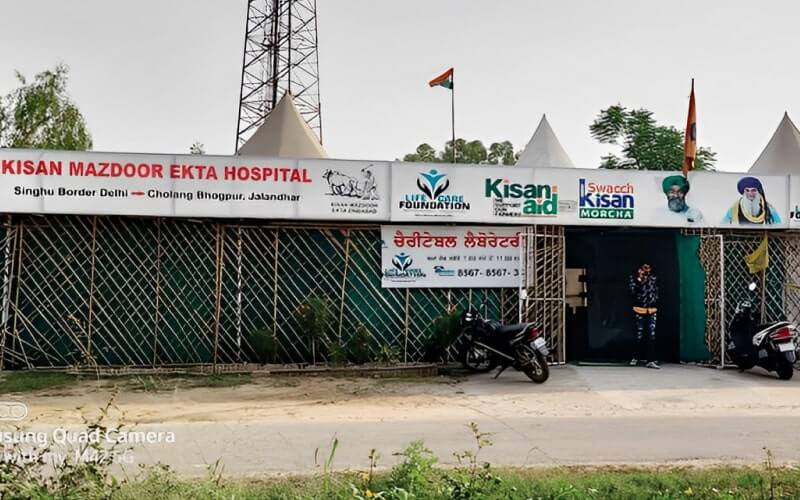 LOCATION: CHOLLANG, JALANDHAR