Thyroid Profile Lab Test in Ambala
Thyroid problems are quite common globally, and in India, they affect roughly 42 million people, as estimated from various studies.

Test Criteria
Know If These Tests Are Ideal For You
Thyroid Profile Lab Parameters
T3 (TOTAL TRIIODOTHRONINE)
T4 (TOTAL THYROXINE)
TSH (THYROID STIMULATING HORMONE)
FAQs
Helps you know your test better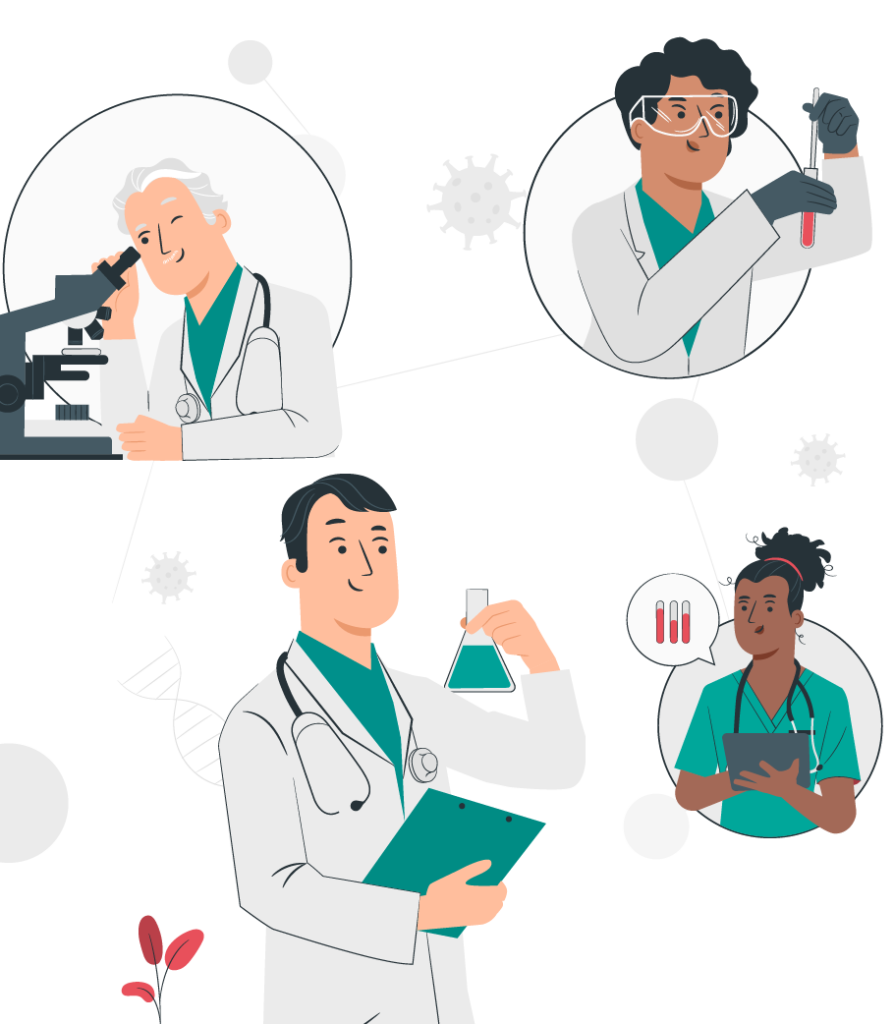 Get the best Thyroid Profile Lab Packages in Ambala
Helps you know your test better
Thyroid Profile Lab Test in Ambala
Thyroid problems are quite common globally, and in India, they affect roughly 42 million people, as estimated from various studies. Early detection and treatment are essential to prevent complications, making thyroid testing a crucial component of health screenings.
What actually is a Thyroid profile test?
The thyroid gland, a small gland located in the lower front of the neck, plays a vital role in controlling various body functions like metabolism, energy levels, and mood. To identify any irregularities in the thyroid, doctors use a test called a thyroid profile.
A thyroid profile test is a combination of tests that check:
Life Care Foundation offers a convenient service where they come to your home to collect the samples for this thyroid test. Normally, getting this test can be costly, but with Life Care Foundation, it's affordable. They make sure it's safe, and you can trust that you'll get accurate results the very next day. So, it's an easy and reliable way to check how your thyroid is doing.
The thyroid function test we mentioned includes three important measurements all in one report, and this helps doctors figure out if you have any thyroid problems.
If you're interested, you can request a call back, and we can schedule a thyroid antibody test. We'll also tell you about the cost and help you book your thyroid test online. It's an easy way to take care of your health!
Thyroid Disease Symptoms and Diagnostic Tests
Thyroid diseases come with different symptoms, depending on whether your thyroid is too active (hyperthyroidism) or not active enough (hypothyroidism). Here are some symptoms for each:
Signs of Hyperthyroidism include:
Rapid heartbeats or palpitations

Feelings of nervousness or anxiety

Weight loss despite having a bigger appetite

Muscle weakness or fatigue

Shaking hands or tremors

Increased sweating and intolerance to heat

Altered menstrual patterns

Trouble sleeping

Enlarged thyroid gland known as a goitre
Signs of Hypothyroidism include:
Feeling tired or sluggish

Gaining weight or struggling to lose it

Dry skin and hair

Joint discomfort and stiffness

Experiencing sadness or depression

Dealing with constipation

Sensitivity to cold weather

Muscle aches and weakness

An enlarged thyroid gland called a goitre
Thyroid Profile Lab Price in Ambala
| | |
| --- | --- |
| Name Of The Test | Thyroid Profile Lab in Ambala |
| Number Of Tests | 03 |
| Actual Test Price | ₹400 |
| Discounted Test Price | ₹120 |
| Home Sample Collection | Available |
| Additional Cost For Home Sample Collection | ₹100 |
| Fasting Before Test | 10-12 Hrs Fasting Required |
| Get Reports Within | Same Day |
Who is at Risk of Thyroid Disease?
People who are in their mid-thirties and older might have a higher chance of thyroid issues. If you're 35 or older, it's a good idea to get a thyroid check every five years or when your doctor suggests it. This helps catch any problems early.
Some other things that can increase your risk of thyroid problems are:
Having family members with autoimmune diseases.

Having Type 1 diabetes.

If your neck suddenly swells up, it might be your thyroid.

If you've had neck surgery before, it can affect your thyroid.

Getting radiation therapy or chemotherapy.

Babies born with certain chromosome issues like Down's or Turner Syndrome are more likely to have thyroid troubles.
If you or someone you know falls into any of these risk categories, it's a good idea to get a thyroid test at Life Care Foundation. They have a high-quality lab, it's not too expensive, they can come to your home to collect the sample, and you'll get your results within a day. It's a simple way to take care of your health!
Why is the Thyroid Test Conducted?
A thyroid profile test is done for several reasons:
To check if there's any thyroid problem.

To find out if someone has hypothyroidism or hyperthyroidism.

To keep an eye on how well thyroid treatment is working for people with thyroid issues.

To figure out the reasons behind fertility problems.

To make sure there are no thyroid problems during pregnancy.

To rule out thyroid disorders in newborn babies.
How is the Thyroid Profile Test Done in Ambala?
Before the thyroid test, a 10-12 hour fasting period is required.

A trained technician from the Life Care Foundation collects a blood sample.

The test is conducted with the person sitting comfortably or lying down.

Blood is drawn from a vein using venipuncture.

Life Care Foundation offers the convenience of at-home thyroid tests with technicians visiting your home.

After the test, you can resume your daily activities as usual.
What's next after a Thyroid Profile Test in Ambala?
If the test shows a thyroid issue, your doctor may prescribe medication.

It's crucial to take the prescribed medicines in the correct dosage.

Your doctor might schedule thyroid tests every three months to keep an eye on your condition.

In some cases, an ultrasound may be ordered to check for structural issues or potential malignancies in the thyroid gland.

If your test results are normal, your doctor may suggest dietary changes, including vitamin and mineral supplements.